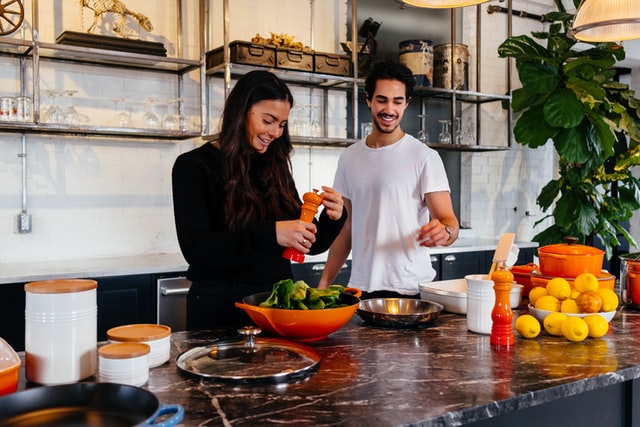 2020 was easily one of the hottest years in the Ontario real estate market to date. There was a huge demand for residential real estate, and it's a trend we have continued to see throughout the beginning of 2021. There are tons of buyers out there, like yourself, but not quite enough supply for the demand. According to the Financial Post, we can expect to see what they describe as a 'hangover' in the housing market later in the year. Does this mean that right now isn't the right time to buy? Of course not. Spring is usually the time of year when we start to see more people listing their homes for sale. It's important to remember that when the market is as hot as it is right now, manage your expectations and lock them in.
When the market is hot, things move very quickly. Bidding wars start taking place and things can feel rushed. But if there's one key thing you take away from this article, it's don't ever feel rushed or pressured to buy a house. Real estate is a BIG investment, and you want to feel 100% confident in the decisions you're making. So, before you jump into the spring real estate market, these are a few things you should keep in mind as a buyer.
Income
The pandemic made 2020 a year of question marks – nobody knew what was going to happen. While some Ontarians thrived, many others lost their jobs and are still feeling the effects of the pandemic over a year after it started.  Regardless of whether we are in a pre-pandemic or post-pandemic market, you will need to show lenders that you have a steady income. If you are receiving less pay or government assistance due to the pandemic, it may hurt your chances of getting approved for a mortgage. However, it's not impossible. There are many ways you can improve your mortgage application to get lenders to take a more serious look at it. You can have a higher down payment ready to put down, pay off a few outstanding loans and debts, or work on increasing your credit score.
If you are looking for ways to increase your income and your chances of getting approved for a mortgage, you may just need to get creative. From getting a second job to starting your own business from home, there are many ways to earn extra cash on the side.
Budget
When it comes to shopping for a house, your budget is your best friend. Particularly right now at the beginning of 2021 while the market is still hot, it's important to manage your budget very carefully. Decide beforehand what your absolute maximum budget is and stick to it. Why? Because it's a painful love story I've heard many times before. A buyer falls head-over-heels for a house, maxes out their budget. Then later find out down the road they can't afford their mortgage or they live mortgage-broke for years. Don't get yourself stuck in a love-hate relationship with a new house. Sticking to a budget you set beforehand will save you a lot of time, grief, and stress in the long run. You may be in love with the house now, but you won't be in love with your mortgage payments eating up a large chunk of your cashflow every month if you go over budget.
Research
Whether you're a first-time homebuyer or an investment property pro, you always need to do your research before buying real estate. What are you looking for in a property? What does your property NEED to have? Before you jump into buying a house, create a list of what you're looking for in a new home, and manage your expectations carefully. Similar to setting a budget, create a list of what you need and stick to it. Extras are nice but, not if they push you past your comfort zone to get them.
As a good test, before buying a house, picture yourself a few years down the road living in that house. Will it still be functional for you? If you're a growing family is there enough space for everyone? Is there a separate unit or basement you could potentially rent out for additional income?
Speaking of income, it's also good to research any financial support opportunities that could help you in buying a house. For example, if you are a first-time homebuyer, you could qualify for the FTHB Incentive. Or if you are currently a resident of Simcoe County, you could qualify for the Affordable Homeownership Program. There are many programs out there that you may be eligible for, so why not take advantage of them? If you want to explore them or learn more, give me a call. I'm always happy to show you what options are available to you along with the advantages or disadvantages that might come with them.
Call in a real estate agent to help.
With the market being as fast-paced as it is right now, it's good to work with someone who understands the current housing trends. Someone who is constantly keeping an eye on new listings coming up. Choosing a real estate agent to help you has many great benefits when buying a house. For example, did you know that right now, many houses are selling before they are even listed publicly? Real estate agents have the inside scoop on what is being prepared to list and an experienced realtor can connect you with the latest houses for sale within your price range.
Real estate agents are also extremely knowledgeable about what to look for in a house behind the scenes. They know which questions to ask and can equip you with the right industry partners so you can make confident decisions. Real estate is a big investment. It's probably one of the biggest financial decisions you will make in your life. Yes, you could probably find houses online on your own, but nothing beats the professional opinion and advice of a seasoned real estate agent.
Get pre-approved and work with a mortgage broker.
Before you fall in love with the house of your dreams or start a bidding war on a property that's way out of your price range, it's good to see where you stand first. By working with a professional mortgage broker like myself, you can get pre-approved for a mortgage in advance of your house hunt so you can see how much of a mortgage you can realistically afford. Once you know your budget and have been pre-approved for the money you need, then you can start shopping for the perfect house. The real estate market is hot right now, but that doesn't mean as a buyer it's impossible to find a place in your price range. Be patient, and you will eventually find the right house, at the right price. To get started on your mortgage pre-approval, give me a call today at 705-315-0516. We can do the entire application virtually, on your schedule, right from the comfort of your own home.